A contemplative response to the world involves our desire to link our contemplative posture with very practical responses to life around us.
It has been hugely important to focus on opening our hearts to receive the love of God so richly present in our lives. We have come to realize that it is not only in the good times but also in times of great suffering that our hearts are opened up in this way sometimes even broken open into God as the Jewish tradition says!
It seems now that, by a wonderful grace of the Spirit among us, we are hungry to deepen our contemplative posture and practice in our responses to the world in which we find ourselves.
(Adapted from Jeff Imbach – Contemplative Responses to the World).
Read the full text of Jeff's Contemplative Responses to the World.
Our Partner representative for Contemplative Response to the World is Jutta Shaw*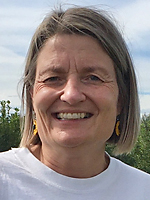 Jutta Shaw took early retirement after working for the federal government for over 20 years. She studied political science and economics and has a Master's degree in public policy. Jutta was born in Simmern, Germany, but has lived most of her life in Calgary. Calgary is located on Treaty 7 land, the traditional territory of the Nitsatapi, Tsuu T'ina and Stoney Nakoda Nations, and part of Metis Region 3.
She had the great blessing of being a member of Barnabas Christian Fellowship, where Jeff Imbach, one of the founders of SoulStream, was the pastor. At Barnabas, Jutta learned about contemplative life and living in community. Her passion for God was renewed when she took Living from the Heart in 2014-15 and the Art of Spiritual Direction from 2018-20.
Jutta doesn't feel like she is retired and is excited about leading SoulStream's Contemplative Response to the World Initiative. She has a teen-aged daughter at home who is a creative force. Jutta loves animals and nature and enjoys hiking, running, reading, being with friends and pursuing social justice.
*Denotes Volunteer
---
On June 11, 2020 close to 30 Partners participated via Zoom in a Liturgy for the Renunciation of the Doctrine of Discovery. Originally, the liturgy was to have taken place at the 2020 SoulStream Annual Gathering in Sorrento, B.C., but due to the COVID-19 pandemic the liturgy took place virtually.
Read more and watch the video here >>
---
How do SoulStream Partners—desiring to live contemplatively in the world—respond to public struggles such as the recent crisis at Standing Rock in N. Dakota?
Read more >>
---
SoulStream Initiatives
Living from the Heart | Spiritual Direction | Partner Formation | Contemplative Response to the World | Continuing Spiritual Formation | Administration