The Spiritual Direction Initiative encompasses the development of new spiritual directors and the support through continuing education of existing directors.
SoulStream's eighteen-month course in the art and practice of spiritual direction involves learning, skill development and supervision. Foundational to this program is the profound truth that spiritual direction is offered primarily out of one's own contemplative experience where God's love is discovered in the midst of one's life and struggles. As one learns to trust and receive God's personal loving action, one is freed to provide an open and sacred presence that allows others to discover the same journey for themselves.
SoulStream desires to provide continuing education opportunities for spiritual directors rooted in the foundation of God's presence in all of life's experience. Coming together in community helps to nurture this awareness and lived reality.
Our Partner representative for Spiritual Direction is Karen Webber*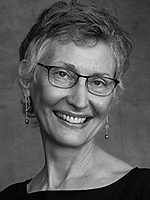 Karen's desire to live with an open heart before God has been shaped by her life experiences including a career in dietetics, involvement in her church community, being the parent of two adult children, along with husband Doug, and her love of the outdoors. She trained as a spiritual director with SoulStream.
*Denotes Volunteer
---
SoulStream Initiatives
Living from the Heart | Spiritual Direction | Partner Formation | Contemplative Response to the World | Continuing Spiritual Formation | Administration