The overall desire of the Continuing Spiritual Formation Initiative is to nurture the spiritual life of SoulStream Partners, alumni and the general public. This Initiative oversees the following in all locations:
SoulStream Days
SoulStream Events
Continuing spiritual formation opportunities SoulStream offers
Collaborations with other organizations offering spiritual formation opportunities
For Continuing Education for Spiritual Directors, see our Spiritual Direction Initiative.
Our Partner representative for Continuing Spiritual Formation is Lois Armerding*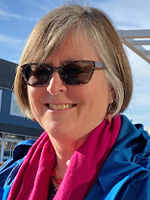 Lois came to SoulStream initially by joining a SoulCare group followed by taking Living from the Heart and ultimately becoming a partner in 2018. She has a long journey of faith which she describes as a bit of a roller-coaster, at least until encountering contemplative practice. Since then, the journey has been more undulating than before. She hopes to continue to engage in spiritual formation activities as they arise as well as assisting with bringing forward rich and various SoulStream opportunities for partners. Lois lives in Tsawwassen BC with her cat Gray Monk. She enjoys reading, kayaking, swimming, snowshoeing and going someplace sunny and warm in January/February.
*Denotes Volunteer
---
SoulStream Initiatives
Living from the Heart | Spiritual Direction | Partner Formation | Contemplative Response to the World | Continuing Spiritual Formation | Administration