The overall desire of the Continuing Spiritual Formation Initiative is to nurture the spiritual life of SoulStream Partners, alumni and the general public. This Initiative oversees the following in all locations:
SoulStream Days
SoulStream Events
Continuing spiritual formation opportunities SoulStream offers
Collaborations with other organizations offering spiritual formation opportunities
For Continuing Education for Spiritual Directors, see our Spiritual Direction Initiative.
Our Partner representative for Continuing Spiritual Formation is Maureen Miller*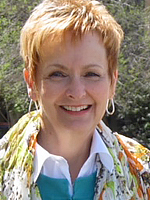 Maureen Miller is the partner representative for the Continuing Spiritual Formation Initiative. Her awareness of a deep longing to know and experience God led her to SoulStream where she trained as a spiritual director. The gift of SoulStream awakened and sustains her desire to come alongside others, listening together to the heart of God. Maureen lives in Kelowna B.C. with her husband Don. She loves "Gammy" time with her three grandchildren, kayaking, reading, winery tours, biking and playing with paint.
*Denotes Volunteer
---
SoulStream Initiatives
Living from the Heart | Spiritual Direction | Partner Formation | Contemplative Response to the World | Continuing Spiritual Formation | Administration